San Juan, Puerto Rico, 2006. Wearing a black suit and heels, I exited the airport terminal and waited for my ride. My first work trip, and last work trip where I would wear heals while in transit – ouch.
I was picked up by a colleague, a Canadian working for Scotiabank in Puerto Rico. I was 25, on a work trip where I got to fly business class, was doing what I went to school for – International Business with a minor in Spanish, had escaped the Canadian winter and was now being picked up in my dream car – a red Audi. Jackpot!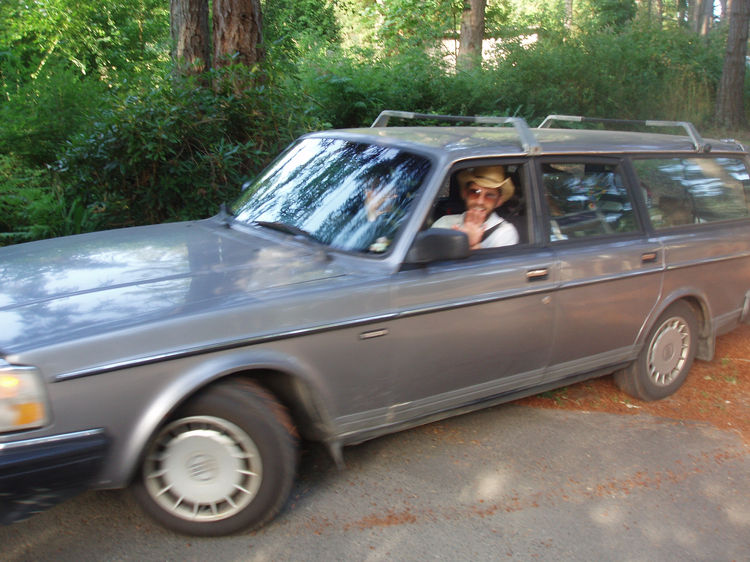 I can't remember when I first wanted a red Audi. I grew up driving my mom's grey Volvo station wagon, and no, not the nice station wagon-type cars they have today but rather the boxy kind that everyone knew was "The Pickell's Volvo" as all three of us siblings learned to drive with that car (see pic above and my brother Colin driving the car). I'm not even a car person, although I knew I didn't want a Station Wagon when I grew up (no offence mom). Plus, I know how many teenagers you can fit in the back of a station wagon and no way are my kids doing that (yes, parents of older or grown kids, feel free to eye roll here, I'll take it).
But in reality, I lived in Toronto and the only time I needed a car was to go to my parents in Goderich as the closest I could get by train was to Stratford which is still an hour away. I walked or took the good old TTC (Toronto public transit) everywhere I went. Plus, city driving scared me.
Then I met my husband Chris, who was managing a sports bar downtown Toronto at the time. We met at a pub for our first date and afterwards he offered me a ride home. It was a great first date of talking and laughing for hours so I said yes. He had passed the "he's not a creep test". We walked to the parking lot across from the pub where there were two cars. A black sporty car and a gold sedan that looked similar to what my grandparents drove. I walked towards the black car; Chris went for the gold and I felt myself cringe a little. Hmmmm, maybe I was more into cars than I thought. Why? I had no clue.
I started to enjoy the perks of Chris' car for things like grocery shopping and visiting my parents but the thought of getting my own car made zero sense both from a necessity and a financial point of view. When it finally (yes, finally) came time for an upgrade for Chris' car, we got an SUV knowing we wanted kids one day – nothing fancy, just something that would give us more room for kids and our dog and would get us around ok.
Enter parental leave. Chris had the car most days for work, but I managed OK with a baby carrier, stroller and the good old TTC. Then winter hit and I entered the world of strollers, public transit, not shovelled sidewalks and crowded streetcars. I also started going to my parents' house more often with the boys. The juggling of the car got harder. But financially, we couldn't afford a second car. We had essentially spent what a second car would have cost on fertility treatments and then adopted privately, twice.
Then we had the joy of two daycare drop offs and pickups and Chris ended up doing them all as he had the car for work, and I had the longer working hours. To many moms it might sound like a dream to have your husband doing drop-offs and pick-ups but to me, I felt like less of a mom. I felt immense guilt. Guilt for not helping more. Guilt for lost time with my kids. I finally switched to taking the express bus to get to and from work sooner. What cost me financially, saved me in time with my kids which was precious considering I got home around 6 and they went to bed around 7. Any minute delay meant a minute less with them. It also meant that anytime the TTC was delayed (which was often with the express bus), I felt stressed and angry. Did the TTC not know it was taking this precious time away from me?
I eventually switched jobs to work one block away from Chris. We started commuting together most of the time and sharing the responsibilities of the drop-offs and pick-ups. I had made a trade-off to be and feel like a better mom, yet something was still lacking in my life and I wasn't sure what.
I started working with a Life Coach to better understand what this thing was that was missing from my life and immediately felt more guilt. How could I feel like something was lacking when I had such an incredible family, friends, job and house? But it was and I needed to know what. With my Life Coach, I was asked to describe my perfect day – it didn't need to make sense or be practical – just what a perfect dream day would be for me. During the exercise I thought back to constantly being told how independent I was growing up. A self-starter who went after what she wanted. I went back to my first work trip in Puerto Rico and the feeling that I'd won the jackpot. I remembered the red Audi. Then it hit me. Through no one's fault but my own, I had lost some of my independence along the way of becoming a wife and a mom. Some of it was par for the course and some of it self-made. At some point I had started going with the flow instead of creating it.
At age 38, I bought the damn car – the red Audi, my very first car. And with it came some independence and a heck of a lot of joy.
#lifeisshort #happiness #independence #momguilt #healthylifestyle #buythedamncar #dowhatmakesyouhappy #passion #joy #fulfillment #pathtopresence